Office Information
Our team of board certified pediatricians and pediatric nurses are available 24 hours a day, 7 days a week, 365 days of the year so we can be there whenever you need us.
Office Hours:

Monday - Thursday: 9:00am - 6:30pm
Friday: 9:00am - 4:30pm
Saturday: 9:00am - 12:00pm
Contact Our Physicians
Please call us any time during office hours to schedule an appointent or ask any questions that you may have.
Phone:

Tel:

(815) 729-0521

Fax:

(815) 729-9060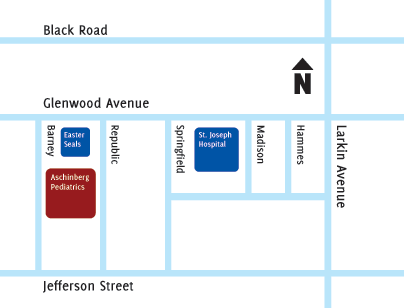 Map from your location!
Aschinberg Pediatrics

114 Barney Dr, Joliet, IL 60435
Driving Directions

I-55 From The South

• Take I-55 North
• Exit at Rt.52 (Jefferson St.)
• Turn Right (East) on Jefferson St.
• Turn Left on Barney
• Clinic on Right side of street
I-55 From The North

• Take I-55 South
• Exit at Rt.52 (Jefferson St.)
• Turn Left (East) on Jefferson St.
• Turn Left on Barney
• Clinic on Right side of street
I-80 From The East

• Take I-80 West
• Exit Larkin North
• Turn Left on Jefferson St.
• Turn Right on Barney
• Clinic on Right side of street
I-80 From The West

• Take I-80 East
• Exit Larkin North
• Turn Left on Jefferson St.
• Turn Right on Barney
• Clinic on Right side of street